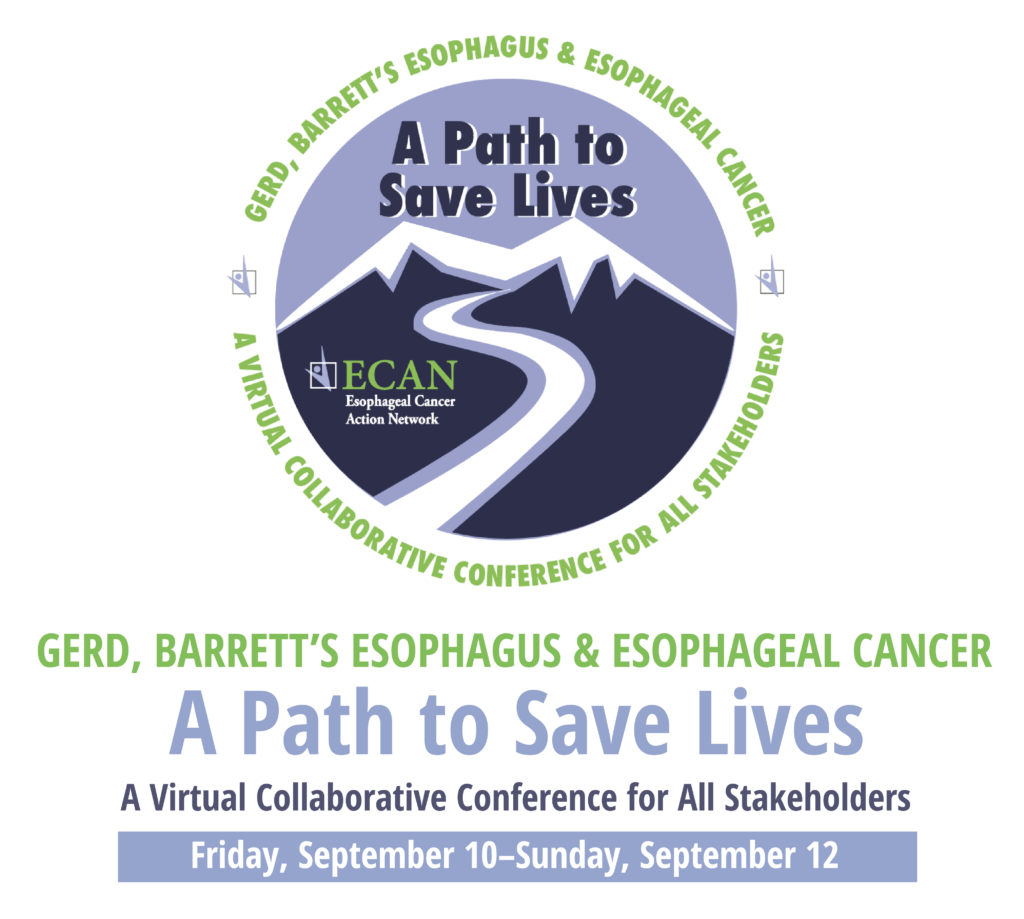 *Scholarships are available for any participant unable to pay the reduced $10 registration fee. 
Contact us at

PathtoSaveLives@ecan.org

to apply.
The Conference has already taken place, but the sessions have all been recorded and all of the other assets are live on our conference platform for a full year. 
So you still have the chance to LEARN from many of

the Nation's TOP EXPERTS!
A Robust Schedule of Topics that Matter to You, including:
URBAN MYTHS:


About GERD and Heartburn



BLOCK THE BURN:


Treatment for GERD and Heartburn
.
CATCH IT EARLY:
Innovative Detection of Barrett's Esophagus
STOP IT IN TIME:


Treatment of Barrett's Esophagus

PREDICT CANCER RISK:
For Patients with Barrett's Esophagus

IS IT ALL IN THE FAMILY?
Latest Research on Family Links in
Barrett's Esophagus

& Esophageal Cancer



CAREGIVER SUPPORT:


How to Care for Yourself While


Caring for Others
PRECISION MEDICINE:


Immunotherapy & Targeted Therapies

TOO MANY, TOO YOUNG:
Join us to Collaborate on a Plan
to Address the Dramatic Increase in


Early-Onset Esophageal Cancer

SURGERY VS. NO SURGERY
Two Views of Esophagectomy

THE LATEST & GREATEST:
Treatment for Esophageal Cancer

HOPE ON THE HORIZON:
Progress in the Research Pipeline

SUPPORTIVE CARE:
What is Palliation? It's Not Hospice

CHANGE THE WORLD:
Making a Difference by Advocating and Raising Awareness
               and more…
FINANCIAL TOXICITY:


A Groundbreaking Approach to
Helping Patients & Families with
the Costs of Cancer Care

PATIENT REPORTS after ESOPHAGECTOMY:
How a New App is Producing Better Outcomes



KEEPING IT TOGETHER:


Anxiety & Depression in Patients



GET A MOVE ON:




Tremendous Benefits of Exercise





EATING with ESOPHAGEAL CANCER:

Nutrition for Esophageal Cancer Patients and Survivors
Distinguished Faculty for
A Path to Save Lives
 ~ Morning YOGA  ~ Lunchtime COOKING DEMOS ~ ENTERTAINMENT with an Esophageal Cancer Twist ~
Postponed!  Keep an eye out for the announcement of the rescheduled event!
Presentation of the First ECAN
BOGART AWARDS
for Extraordinary Contribution to the
Wellbeing of those at Risk for Esophageal Cancer
Many Thanks to our Conference Sponsors: