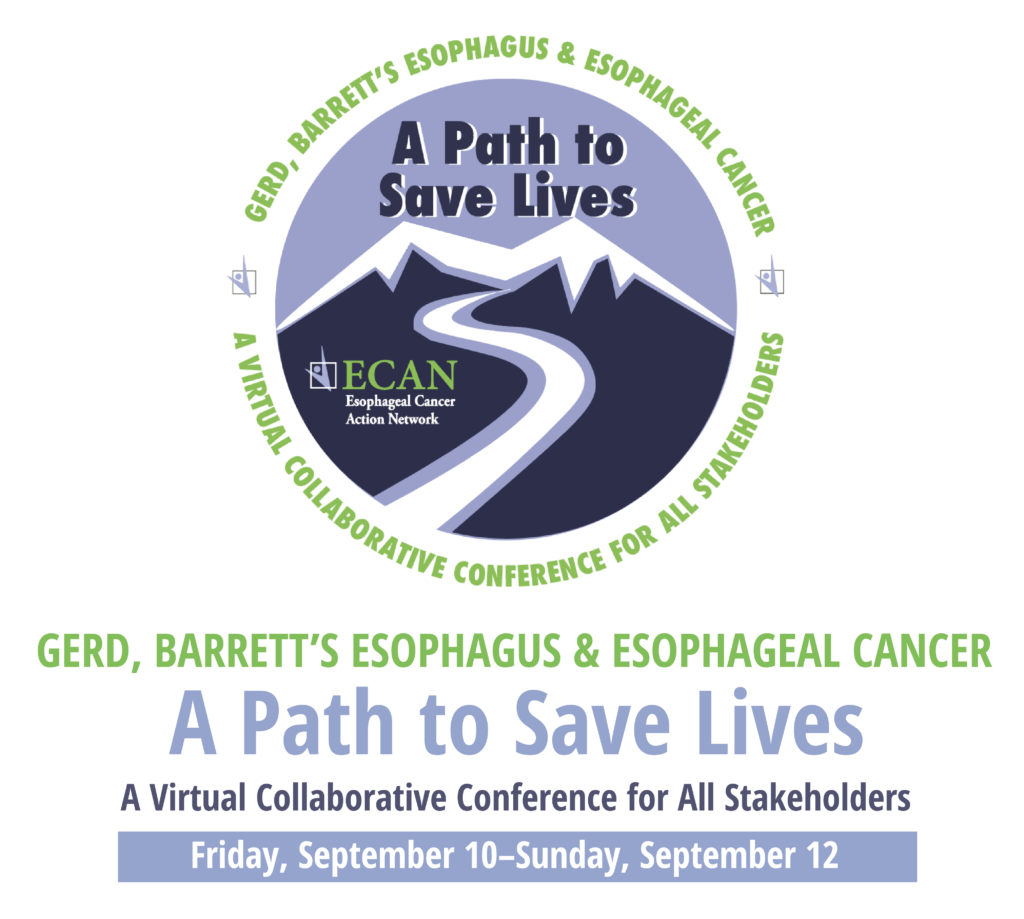 *Scholarships are available for any participant unable to pay the registration fee. 
Contact us at

PathtoSaveLives@ecan.org

to apply.
A Path to Save Lives begins in just...
LEARN, INTERACT & COLLABORATE with many of

the Nation's TOP EXPERTS!
A Robust Schedule of Topics that Matter to You, including:
URBAN MYTHS:


About GERD and Heartburn



BLOCK THE BURN:


Treatment for GERD and Heartburn
.
CATCH IT EARLY:
Innovative Detection of Barrett's Esophagus
STOP IT IN TIME:


Treatment of Barrett's Esophagus



PREDICT CANCER RISK:


For Patients with Barrett's Esophagus



IS IT ALL IN THE FAMILY?


Latest Research on Family Links in
Barrett's Esophagus

& Esophageal Cancer
PRECISION MEDICINE:


Immunotherapy & Targeted Therapies

SURGERY VS. NO SURGERY
Two Views of Esophagectomy

THE LATEST & GREATEST:
Treatment for Esophageal Cancer

HOPE ON THE HORIZON:
Progress in the Research Pipeline

SUPPORTIVE CARE:
What is Palliation? It's Not Hospice

CHANGE THE WORLD:
Making a Difference by Advocating and Raising Awareness
               and more…
TOO MANY, TOO YOUNG:


Join us to Collaborate on a Plan
to Address the Dramatic Increase in


Early-Onset Esophageal Cancer



SURVIVING:


Life after Diagnosis and Treatment of Esophageal Cancer



ALL IN YOUR HEAD:


Mental Health Issues for Patients



GET A MOVE ON:




Tremendous Benefits of Exercise





EATING AFTER SURGERY:

Nutrition for Esophageal Cancer Patients and Survivors
 ~ Morning YOGA  ~ Lunchtime COOKING DEMOS ~ ENTERTAINMENT with an Esophageal Cancer Twist ~
Presentation of the First ECAN
BOGART AWARDS
for Extraordinary Contribution to the
Wellbeing of those at Risk for Esophageal Cancer
Many Thanks to our Conference Sponsors: