Here's YOUR Chance to

Paint Your World with Esophageal Cancer Awareness!
DIY ESOPHAGEAL CANCER AWARENESS EVENT 
With ECAN's Event-in-a-Box You can Bring
Awareness about Esophageal Cancer to your Community
by Hosting an Event of your own that is
Fun or Interesting or Energizing … or Anything YOU Want it to Be!
What's in the Event-in-a-Box?
ECAN's event-in-a-box comes with most everything you will need to become an ECAN partner to host a successful event in your community. We've got you covered for an event in the office, backyard, park, neighborhood – or just about anywhere you want to raise awareness.
Big or small or something in between, the event-in-a-box is designed to help you host a gathering to raise important awareness in your community. We've done a lot of the prep, so you don't have to.
Each basic box comes with:
10 Posters ready for you to run through your home printer to add all the details of your event. Choose from a variety of themes for your gathering including Paint the Town Periwinkle, Cancer Dancer, Esophageal Cancer Awareness Month, and Steps to Save Lives
25 Guide for Patients: Reflux Disease (GERD), Barrett's Esophagus, and Esophageal Cancer
25 Periwinkle Wristbands
10 Periwinkle ECAN Balloons
Then add whatever you want to make your big day shine! Choose from:
Banners
Table Runners
T-shirts
Baseball Caps
Buttons
Water Bottle Wraps
Periwinkle Hair Extensions
and more!
Our goals is to make it easy for you to tailor your event to your needs.
And if you want to do something involving a big crowd, we are here to help you with all of the logistics!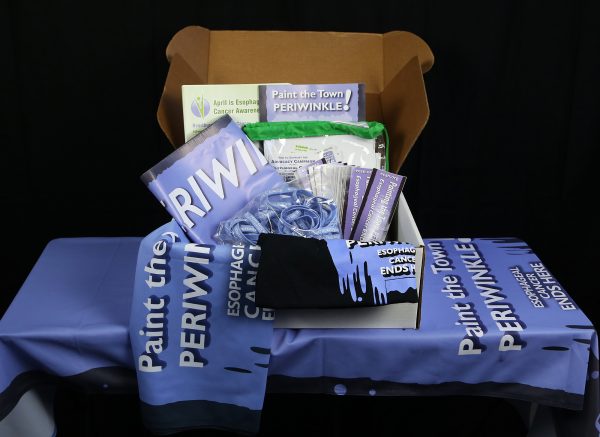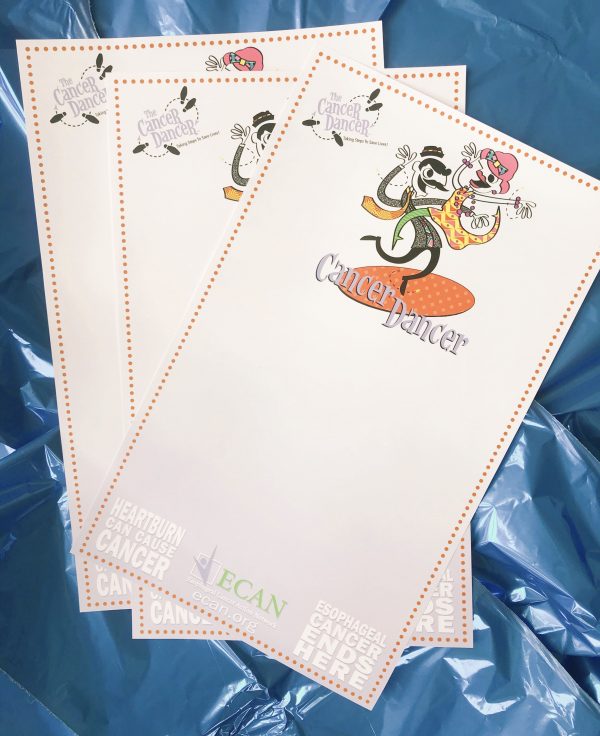 I Want to Host an Event! Now What?          
It's All About Making the Event Your Own!
Choose Nearly Any Type of Event You Want – As Your Partners, 

We are Here to Support You!
 How About Hosting a Cancer Dancer in Your Community?

ECAN's Cancer Dancer started out as an energizing day of every type of dance class you can imagine – then expanded to included amazing dance performances – and finally became an incredibly joyous Gala! 
When you partner with ECAN to host a Cancer Dancer, your event can be just about anything that involves dancing and raising awareness about Esophageal Cancer:
Dance Marathon
Dance Instruction
Zumba Class
Dinner Dance
Dance Performances
Dance Competition (So you think you can…?)
Where does your imagination take you?
Want to Take Steps to Save Lives?
With our Event-in-a-Box guides and help from the folks at ECAN, you can host your own community walk or run … it can be a family event or something that brings out the whole town. 
You decide.  We'll be here to help!
You have Many, Many Ways to Paint Your Town Periwinkle!
You can invite your friends and family to unlimited fun activities as part of Paint the Town Periwinkle! That's because EVERYTHING you do to share a life-saving message will Paint your Town that Beautiful Shade of Awareness. 
So how about a Spinathon? Or a Motorcycle Ride?  Or just about anything you can think of:
Barbeque
Pool Tournament
Comedy Night
Pottery Painting
Cornhole
Bicycle Race/Ride
Community Picnic
Snowman Competition
Swimming Party
Bake Sale
Birthday Party
Poker Tournament
Cooking Competiton
Knitting Circle
Kickball Game
Motorcycle Ride
Horseshoe
Spinathon

If you're ready to jump in, get your very own Event-in-a-Box at the BUY PERIWINKLE store. 
If you have questions, give us a call at 410-358-3226 or email us info@ecan.org. 
We are here to partner with you to raise awareness and save lives where you live!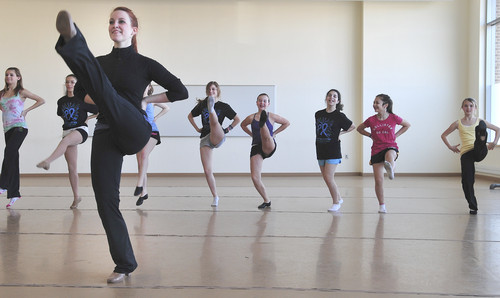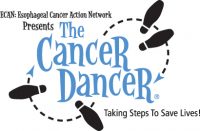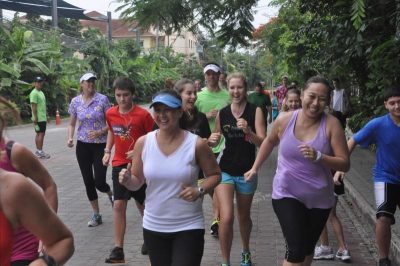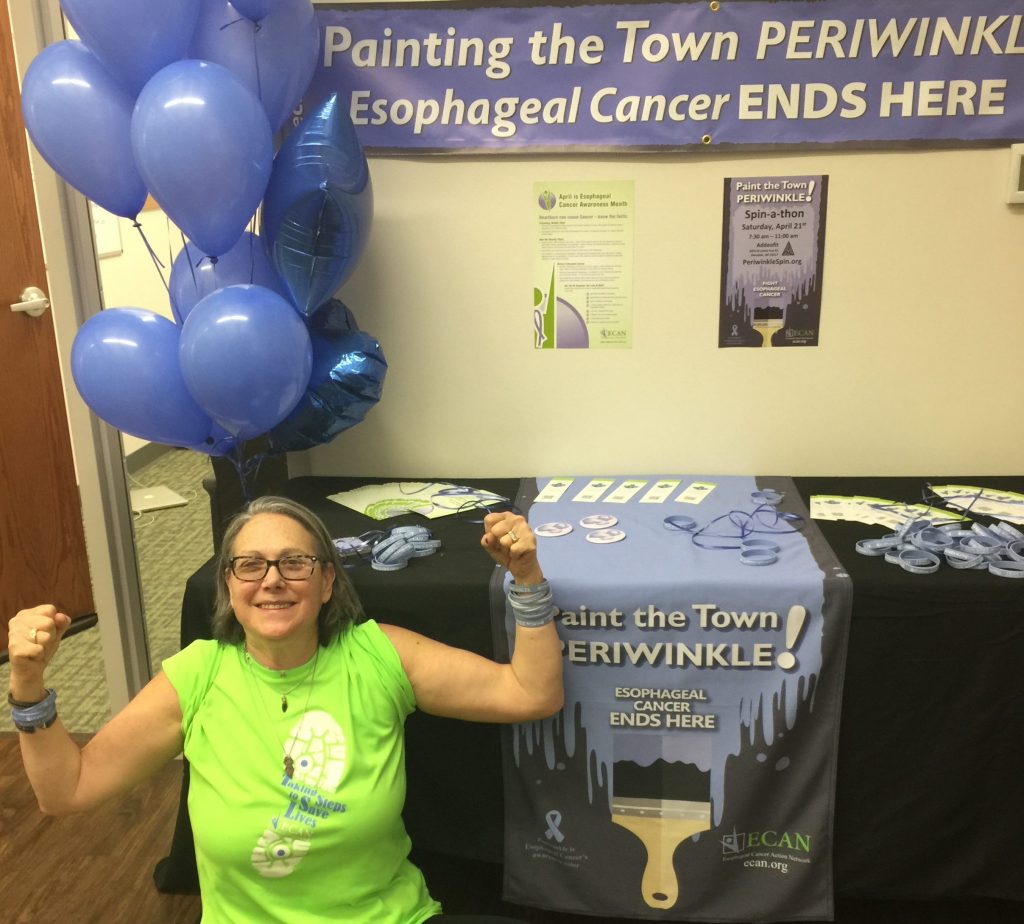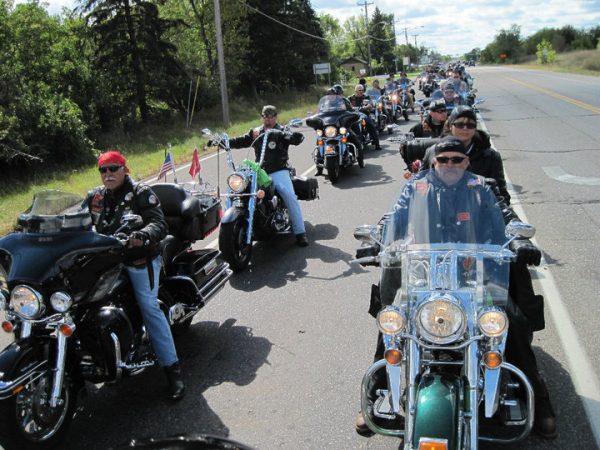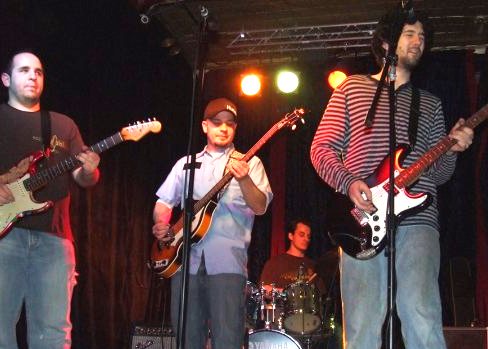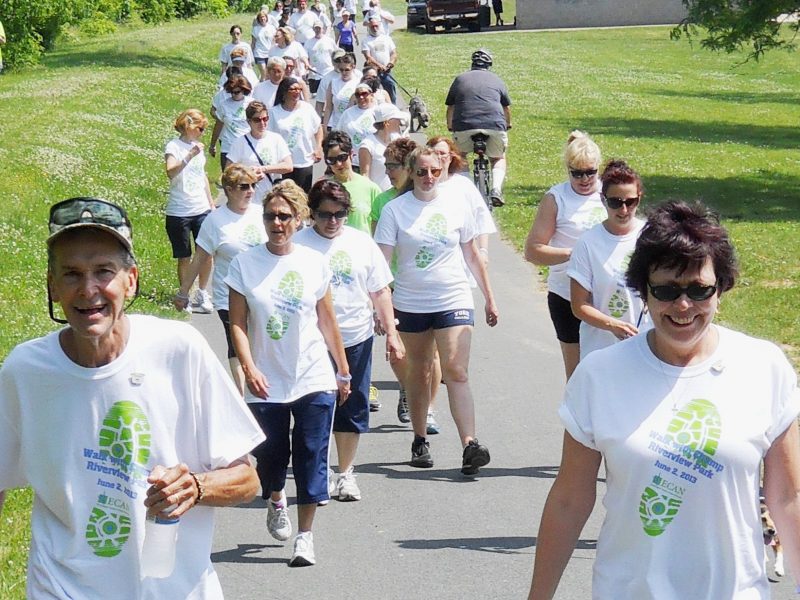 It was incredible. People still talk about it to this day. I have people all the time say "Hey I remember that!" You know, it's amazing. I thought "Wow". I wanted to do it every year but it was too much of an undertaking. So then I go to myself, "Maybe seven years out we will do it again, ten years!" But yes, it was amazing. It was such a great awareness event. I met so many people. I had people travel from all over. We had people in other countries and around the US participating. It was amazing and I'd love to see something like that happen again. It was a good event.
It was nice! Need many people to be where event is. Paint the Town Periwinkle will spread awareness in the right spots like hospital areas. 
We set one up in Thailand.  I got all the brochures I needed. It was fun. The tee shirts, everything we needed to participate. It was easy to get people to join and come out and do that. Everyone had a great time. It was interesting to me, the awareness that heartburn can cause cancer and you can have silent reflux – that blows my mind. To be able to talk to the people whose brother or uncle or cousin or someone in their family, a husband or spouse, to be able to say "oh you should get checked" and "do you know this is what it leads to?" and people going "Oh wow no I didn't know, I'll spread that." It was fun, it was fun to be apart of that.
How much does the Basic Box Cost?
The basic box is $40 including shipping.  That price is less than the cost of purchasing just the wristbands in the box.  And if you need more of the items included in the basic box, ie wristbands or posters, we will work with you to make sure you have everything you need.  Other items such as t-shirts, table runners and banners are available and prices are listed at our Buy Periwinkle store.  ECAN has priced all of the components of the Event-in-a-Box at or below our own cost to produce the materials.  We aren't looking to make money from selling the boxes, we just want to provide all the support we can to members of the ECAN family who want to reach out and raise awareness!
Does my event have to be a fundraiser?
No.  The point of this effort is to make it as easy as possible for you to raise awareness.  Of course, we encourage folks to raise funds to support the fight against Esophageal Cancer because every dollar raised is another dollar that will go toward saving lives. We think you will find that your friends and family truly do get a positive feeling from knowing that they are making a difference in the world.
If I do host a fundraiser, does it matter if I don't meet my fundraising goal?
We encourage you to try to meet a goal, and we may be able to help, but our main concern is raising awareness.
What will the money I raise be used for?  
All funds raised will go to the fight against Esophageal Cancer.  ECAN is dedicated to raising awareness about the link between Heartburn and Cancer and providing the most reliable and up-to-date information for patients and families.
ECAN is also the only organization advocating for Esophageal  Cancer patients in Washington, D.C.  ECAN has worked very hard to get Esophageal Cancer researchers access to a multi-million dollar cancer research fund controlled by Congress.  We are told that we are very close to success.  But without ECAN's advocacy, those funds would not become available to the fight against Esophageal Cancer.  ECAN also successsfully advocated to get EC included in the Cancer Genome Atlas where groundbreaking discoveries were made that fuel progress we are seeing today.
Is there a way for me to have a webpage dedicated to my event that I can personalize and share my story?
Is it a place where my guests can sign up and have the convenience of paying online?
Yes! We use a fundraising platform called OneCause that is safe and secure.  Our platform is designed to make it easy for folks like you to host events and share your story without any of the hassle of creating your own website.  And we are here to help should you run into any problems.
Can I get community service hours for hosting a Paint the Town Periwinkle event if I am a high school or college student?
Absolutely! We would be happy to sign off on any hours spent hosting an event with us. Students are great awareness ambassadors!  They can inform their parents of life-saving information that those adults might not otherwise receive.