Enlist in Stacy's Army to Take Action to Save Lives!

It takes an army to win a war. That's why ECAN is recruiting.
Whether you are
an Esophageal Cancer patient,

a caregiver,

someone whose loved one has been affected by EC, or

a patient with EC precursor Barrett's Esophagus
You are already in a Battle you never signed up for.
..
When you enlist in Stacy's Army:
We will make sure you are ARMED with effective ways to share life-saving information, ORGANIZED to apply your efforts where they will make the most difference, and SUPPORTED throughout your fight.
..
---
..
Why Stacy's Army?                                               Hope is important. 
~ Stacy Alexander
January 9, 1969 – May 29, 2019
..
Stacy Alexander was a 43-year-old mother of eight when she was diagnosed with Stage IV Esophageal Cancer. Doctors told her she would live just 3 months. But she proved those doctors wrong. And over the course of the seven years that followed, she became a relentless force: constantly developing ideas to defeat Esophageal Cancer, sharing a life-saving message everywhere she went, supporting other patients, and donating every month to fuel the fight against Esophageal Cancer. 
Paint the Town Periwinkle was Stacy's idea – and it spread to the corners of the globe when, while pregnant with her ninth child, she hosted an event in her Tennessee hometown coordinated with events across the nation and the world!
From the day when she received that Stage IV diagnosis, and through her two recurrences, Stacy was full of grace, faith, and love. Her commitment to her husband and nine kids was profound, but her dedication to improving the lives of other people was extraordinary.
We lost Stacy to Esophageal Cancer in May of 2019. But Stacy's wonderful spirit lives on – not just in the memories of so many of us who knew and loved her – but in the battle in which she was a fearless warrior. That is why we are moved to call this critical effort to save the lives of those at risk for Esophageal Cancer Stacy's Army.
What Makes YOU a Good Recruit?
Who knows better the danger of not being aware of the risks posed by acid reflux?
Who understands better why this matters?

Who has more passion to increase prevention and early detection?
…
YOU have the power to make progress in the fight to end Esophageal Cancer.
YOU may be the deciding factor in someone else's life.
Patients at risk for Esophageal Cancer need YOU.
..
How will you make a difference?
When you enlist, the missions you can take on are varied and plentiful, as easy or complicated as you choose.

Focus on your neighborhood, your town, your county, your state, the nation, or the world.
Work alone or with businesses, governments, community groups, medical professionals … anyone you like. 
…
You will be armed with all the materials you need to be successful.
You will have the camaraderie of fellow recruits.

You will get all the support you need along the way.
…
The ammunition is ready.

Enlist now so we can begin to arm you in this life-saving fight!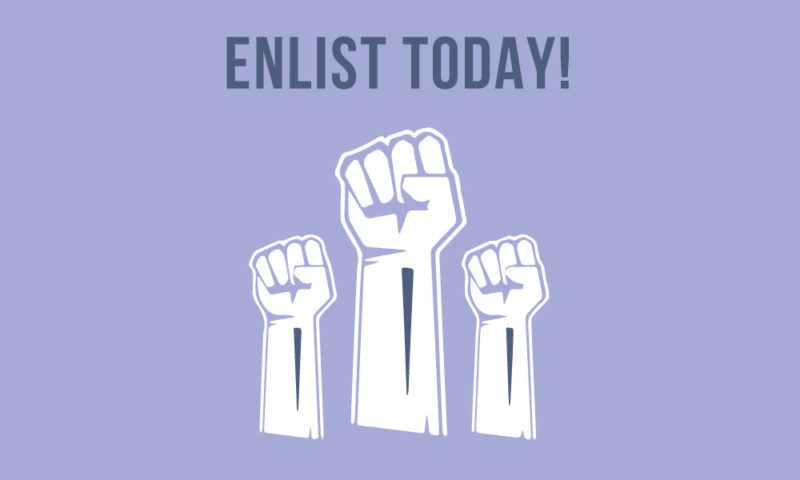 Sign Up Now.
Let the Life-Saving Battle Begin!
Every mission you take on will be something that would make Stacy proud.
And the uniforms are kinda cool, too.