Our Attitude is Gratitude: ECAN is so grateful when you reach out to Raise Awareness and Funds to Fight Esophageal Cancer
The Funds you Raise go to Fight Esophageal Cancer by:
Raising Awareness that Heartburn can cause Cancer – and how to tell if you are at risk – Across the Nation and the World
Fighting for Millions of Dollars in Increased Research Funding to Prevent, Detect, Treat and Cure Esophageal Cancer
Providing the most up-to-date and credible information about how to Fight Esophageal Cancer
Linking Patients and Families to Compassionate Support
This Fight Cannot Continue without Your Support!
That's why we show our Thanks when you Fundraise with these tokens of our Appreciation. 
WE DON'T SELL THESE ITEMS to the PUBLIC.
They are ONLY AVAILABLE TO LIFE-SAVERS LIKE YOU who have joined our quest to END ESOPHAGEAL CANCER!
When you raise $100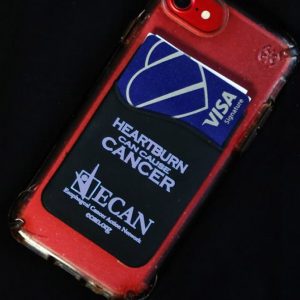 Raise just $100 or more, and you will receive a cool, silicone phone pocket with adhesive back.  
Non-residue 3M™ adhesive sticks to the back of your mobile phone and the pocket holds credit cards, driver's license, hotel room keys, stylus, coins, or other small personal items while sharing the life-saving message "Heartburn can cause Cancer"!
When you raise $200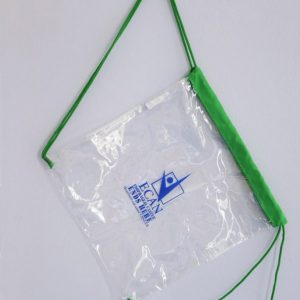 When you raise $200 or more, you will receive a cool, clear drawstring bag that sports the ECAN "get checked" logo. 
These useful pull string stadium bags are made of sturdy, clear PVC. These transparent bags are compliant with NFL regulations as well as being TSA checkpoint friendly. And the message "Esophageal Cancer Ends Here" tells the world that you are serious about the Fight against Esophageal Cancer.
When you raise $500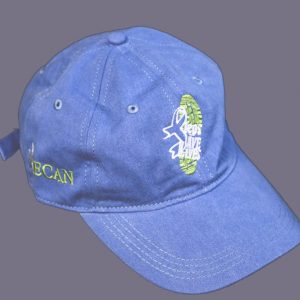 Raise $500 or more and you will receive our Periwinkle Blue "Steps to Save Lives" Baseball Cap.
This unstructered, 100% pigment-dyed, water-washed cotton twill cap comes with antique brass snap and tuck-in closure.  When you wear this, you tell the world that you are taking Steps to Save Lives.
When you raise $1,000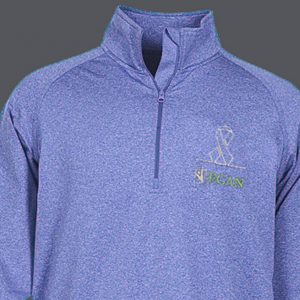 Reach that $1,000 fundraising goal and you'll get a special long-sleeved moisture-wicking half-zip SportTek shirt. 
In Esophageal Cancer's awareness color of Periwinkle Blue, this fantastic shirt looks great in almost any setting and any weather. With soft-brushed backing and moisture control for year-round comfort, it's all about your comfort including a tag-free design and chin guard.  Its embroidered awareness ribbon and ECAN logo are marks of a true Life-Saver!