Esophageal Cancer Patients are among those who may qualify for the expansive benefits of the PACT Act – including more health-related benefits, faster health care for serious conditions, and disability compensation.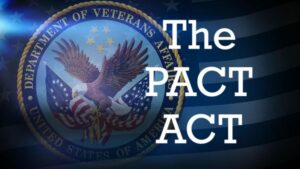 DATE to APPLY: The Veterans Administration says if vets file their PACT Act claim—or quickly submit their intent to file—by August 9, 2023, they may receive benefits backdated to August 10, 2022. They can file later but risk losing the earliest potential start date for benefits.
The PACT Act is a new law that expands VA health care and benefits for Veterans exposed to burn pits, Agent Orange, and other toxic substances.
Passed by Congress last year, the Promise to Address Comprehensive Toxics (PACT) Act:
Expands and extends eligibility for VA health care for Veterans with toxic exposures and Veterans of the Vietnam, Gulf War, and post-9/11 eras
Adds 20+ more presumptive conditions for burn pits, Agent Orange, and other toxic exposures
Adds more presumptive-exposure locations for Agent Orange and radiation, and
Requires VA to provide a toxic exposure screening to every Veteran enrolled in VA health care.