And went on to win the Silver Medal in the Tokyo Olympics in the Women's 1500 Meter competition!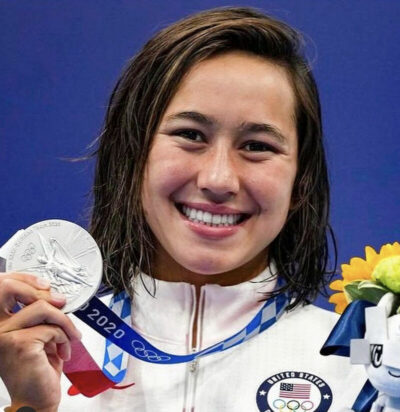 Erica Sullivan said of her father, himself a collegiate swimmer, "I'm so glad that even though he's gone, he's there in spirit, and I'm sure he's really proud of me."
Erica was just 16 when she lost her father to Esophageal Cancer.  Her father's college swimming teammates came to Omaha to support Erica when she qualified for the Olympics.
After the Olympic trials is Omaha, she told Swimming World Magazine, ""I'm proud of the mental health barriers that I got through, with my dad dying in 2017 and really hitting a rock bottom in 2018 from the stress of losing a parent at age 16 and having to get over the anxiety, the panic attacks, the depression, the PTSD, all that. I'm so happy that I was able to overcome those."
Learn more about Erica Sullivan and her big win: