Twelve years ago, a small but mighty group of dedicated folks who wanted to see significant change for patients at risk for Esophageal Cancer came together in Baltimore, Maryland to begin a movement.  They voted to call this new organization ECAN: Esophageal Cancer Action Network with the belief that we CAN save lives.
Raising Awareness that Heartburn can cause Cancer
The impetus to start ECAN was the strong belief that more awareness that Heartburn can cause Cancer could save lives.  Early detection had proven life-saving but incredibly rare.  If more people – including doctors and other healthcare professionals – were aware of the risks posed by persistent reflux disease, surely fewer people would die of Esophageal Cancer.  But without an easy-to-use screening tool, it seemed unlikely that many Americans with heartburn would ever find out about their risks.  It wasn't cost-effective to conduct an upper endoscopy on every patient with heartburn, and the procedure is not without risk.  And research had shown that about 40% of patients with the precursor Barrett's Esophagus reported having no heartburn or other symptoms of gastroesophageal reflux disease (GERD).
ECAN never abandoned its efforts to raise awareness of the link between reflux disease and Esophageal Cancer.  ECAN started Esophageal Cancer Awareness Month in 2009 and has planned and conducted robust programming in observance every year.  But we knew that awareness alone would not be enough.  And that is why ECAN's attention turned to research and research funding.
Focus on Research
ECAN's Board of Directors paved the way for the studies that showed the benefit of immunotherapies that have just been approved for patients with Esophageal Cancer. That research only happened because of results from the Esophageal Cancer project of The Cancer Genome Atlas (TCGA), the National Cancer Institute's ground-breaking cancer-genome mapping project.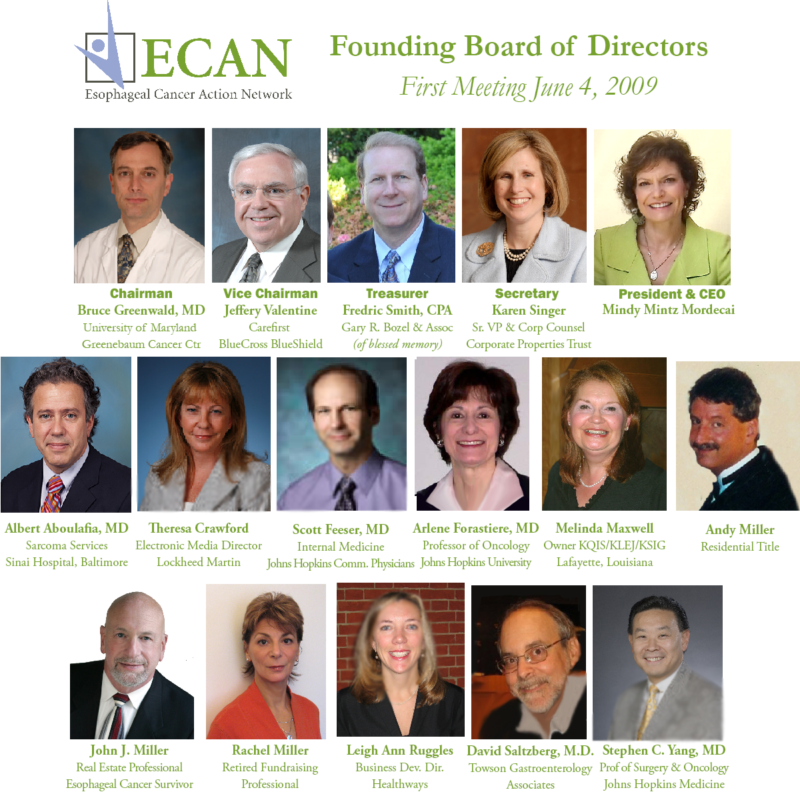 Never doubt that a small group of thoughtful, committed people can change the world.
Indeed, it is the only thing that ever has.
               ~ Margaret Mead
But Esophageal Cancer was not part of NCI's original plans for TCGA.
The foresight and steadfast advocacy of ECAN's Board of Directors played an important role in making sure Esophageal Cancer was included in this pivotal project.
The ECAN Board sent a letter to the Director of the National Cancer Institute in the spring of 2011 making it clear that it was imperative to include Esophageal Cancer in The Cancer Genome Atlas.  But they did more than just talk.  They promised concrete assistance!
The Board offered to help with the often difficult collection of tumor samples – and pledged to raise the necessary funds to launch the project, since NCI appeared unable to cover those costs.  With just $40,000 in the bank and most staff working full-time with no compensation, ECAN pledged to raise the $500,000 that would be required to get the project off the ground.
Less than three months later, NCI began an Esophageal Cancer pilot project of TCGA and invited ECAN's Chairman and President to serve on the Disease Working Group directing the project.  The project was able to start quickly because NCI found the necessary funding in its budget. But acquiring the necessary tumor samples was more challenging and took longer than expected.
The results of the Esophageal Cancer pilot project of TCGA were published in the journal Nature in January 2017. The research showed that Esophageal Adenocarcinoma was very similar to the most prevalent type of gastric cancer.  This finding allowed Esophageal Adenocarcinoma patients to be included in many clinical trials focused on gastric cancer from which they would otherwise have been excluded.
Some of those studies proved the efficacy of immunotherapy for patients with Esophageal Adenocarcinoma and Gastroesophageal Junction Cancer and paved the way for the recent approvals of Opdivo and Keytruda for patients with advanced Esophageal Cancer.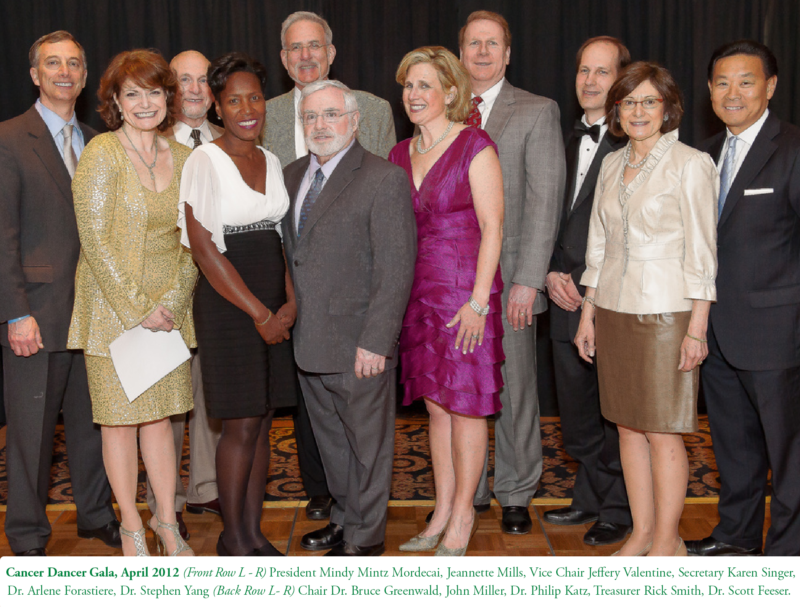 Warning Labels on Heartburn Remedies?
ECAN has undertaken some innovative strategies to increase public awareness, like the petition filed in Spring of 2017 with the Food and Drug Administration to get warning labels placed on over-the-counter heartburn remedies.  At the time, ECAN commissioned a public opinion survey that found that only 14% of Americans were aware that reflux disease could cause cancer.
Although the FDA denied the ECAN petition late in 2018, the detailed opinion given by the government agency provides significant guidance for a future petition filing.
Fight for More Research Funding
Because Esophageal Cancer for years received very little research funding from the federal government, ECAN undertook an advocacy campaign in 2019 that resulted in Esophageal Cancer being included for the first time in the Department of Defense Peer-Reviewed Cancer Research Program, which was funded in FY 2020 at $110 million.
As a result, this year Esophageal Cancer researchers received nearly $4.5 Million in additional funding.  Among the funding provided, the awards will allow for the study of a minimally-invasive screening device and a clinical study of CAR-T Therapy in Esophageal Cancer.  ECAN has hosted an informative webinar for researchers interested in applying for this funding for FY 2021.
We are currently advocating to keep Esophageal Cancer in this multi-million dollar program again in FY 2022.  Go to BeatEC.org to make your voice heard and support the campaign to gain millions in new Esophageal Cancer research funding every year!
A Path to Save Lives – A Virtual Collaborative Conference for All Stakeholders
Today, ECAN is preparing to host its first virtual conference in September.  GERD, Barrett's Esophagus & Esophageal Cancer: A Path to Save Lives will bring together the nation's top researchers and experts to educate our community and participate in collaborations on issues such as the dramatic increase in Esophageal Adenocarcinoma among younger people.  You can find out more at PathtoSaveLives.org.