"Esophageal Cancer: What to Know" is a new report from U.S. News & World Report by contributing writer David Levine.  Mr. Levine interviewed medical experts from ECAN's Board of Directors for important perspectives on Esophageal Cancer and how to prevent and detect it.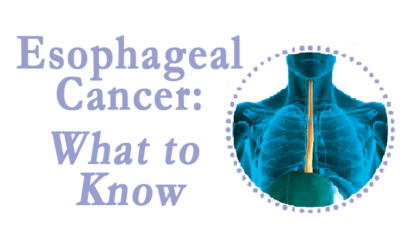 ECAN's Board Chairman Dr. John Lipham, Chief of the Division of Upper GI and General Surgery, Chair in Upper GI Cancer, and Professor of Surgery at the Keck Medical Center of the University of Southern California described how gastroesophageal reflux disease (GERD) can lead to Esophageal Adenocarcinoma, the type of Esophageal Cancer that is most common in the western world, including the United States.  "The esophagus isn't meant to see the caustic material that's in the stomach," Dr. Lipham explained.
ECAN Director Dr. A. Craig Lockhart, Chief of the Division of Medical Oncology at the Sylvester Comprehensive Cancer Center and Professor in the Department of Medicine at the University of Miami Miller School of Medicine explained that Esophageal Squamous Cell Carcinoma accounts for about 90% of Esophageal Cancer worldwide.  A Western diet that leads to acid reflux and obesity is likely the reason the United States sees more of the other type of Esophageal Cancer.  But, Dr. Lockhart added, "not all of (my patients) are overweight. I've had triathletes, and there is nothing overweight about them."
ECAN was especially glad that the article included information about two issues that are priorities for our organization:
1) the dramatic increase in early-onset Esophageal Adenocarcinoma, and
2) the new minimally-invasive detection devices that are coming to the marketplace.
Early-Onset Esophageal Adenocarcinoma
The report cites examples of just some of the young people ECAN has known who were cut down in as teens and young adults by this deadly cancer. ECAN is spearheading an effort to address this issue and has recently partnered with the National Cancer Institute's MyPart (My Pediatric and Rare Tumor) Network to begin natural history studies of these cases.  ECAN will also host a collaborative session to develop a plan of action to address this disturbing trend during its upcoming virtual conference, GERD, Barrett's Esophagus, and Esophageal Cancer: A Path to Save Lives in April 2021.
New, Minimally-Invasive Screening Devices
The article also highlighted the important addition of new minimally-invasive devices that detect Esophageal Cancer and its precursor, Barrett's Esophagus, that can be swallowed and don't require sedation. Dr. Lipham told U.S. News & World Report that even though these new diagnostic tools have not yet been included in practice guidelines, "In my opinion they should be considered as a much more cost-effective way to diagnose patients and intervene earlier in the disease."
ECAN's President and CEO Mindy Mintz Mordecai said, "We think that if they are widely used, we can dramatically impact the devastation this disease causes." She emphasized ECAN's belief in the importance of increased awareness about the link between acid reflux and cancer, saying. "And it will require more public understanding that GERD is not merely an annoyance."
Esophageal Cancer: What to Know was published on February 18, 2021.