The U.S. Food & Drug Administration has approved a new therapy for adult patients with locally advanced or metastatic  HER2+ Gastroesophageal Junction Adenocarcinoma who have received a prior Herceptin or trastuzumab-based regimen.  Enhertu (fam-trastuzumab deruxtecan-nxki) a combination of targeted therapy with chemo, is designed to target and deliver chemotherapy inside cancer cells and reduce systemic toxic exposure to chemotherapy.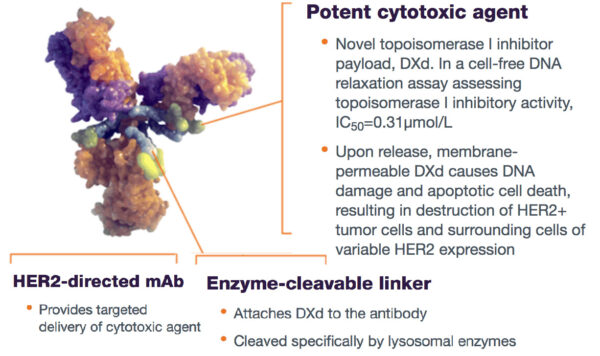 It's estimated that HER2 amplification (making a patient HER2 positive) is found in 30% of patients with Esophageal or Gastroesophageal Junction Adenocarcinoma.
According to the FDA, the efficacy of Enhertu was evaluated in a multicenter, open-label, randomized trial (DESTINY-Gastric01, NCT03329690) in patients with HER2-positive locally advanced or metastatic gastric or GEJ adenocarcinoma who had progressed on at least two prior regimens, including trastuzumab, a fluoropyrimidine- and a platinum-containing chemotherapy. A total of 188 patients were randomized (2:1) to receive fam-trastuzumab deruxtecan-nxki 6.4 mg/kg intravenously every 3 weeks or physician's choice of either irinotecan or paclitaxel monotherapy.
This study found overall survival was about 50% longer in patients receiving Enhertu, the overall response rate to Enhertu was nearly four times greater, and the median duration of response was about three times longer.
The FDA reported that the main efficacy outcome measures in the study were overall survival (OS) and objective response rate (ORR) assessed by independent central review (RECIST 1.1) in the intent-to-treat population. Additional efficacy outcome measures were progression-free survival (PFS) and duration of response (DOR).
OS was 12.5 months (95% CI: 9.6, 14.3) in the fam-trastuzumab deruxtecan-nxki arm compared with 8.4 months (95% CI: 6.9, 10.7) in the irinotecan or paclitaxel arm (HR 0.59; 95% CI: 0.39, 0.88, p=0.0097). Confirmed ORR was 40.5% (95% CI: 31.8, 49.6) in the fam-trastuzumab deruxtecan-nxki arm compared with 11.3% (95% CI: 4.7, 21.9) for those receiving irinotecan or paclitaxel. Median PFS was 5.6 months (95% CI: 4.3, 6.9) in the fam-trastuzumab deruxtecan-nxki arm compared to median PFS of 3.5 months (95% CI: 2.0, 4.3) in the irinotecan or paclitaxel arm. Median DOR was 11.3 months (95% CI: 5.6, NR) vs 3.9 months (95% CI: 3.0, 4.9), respectively.
The most common (≥ 20%) adverse reactions including laboratory abnormalities were anemia, leukopenia, neutropenia, lymphocytopenia, thrombocytopenia, nausea, decreased appetite, increased aspartate aminotransferase, fatigue, increased blood alkaline phosphatase, increased alanine aminotransferase, diarrhea, hypokalemia, vomiting, constipation, increased blood bilirubin, pyrexia, and alopecia. The Prescribing Information includes a Boxed Warning to advise health professionals of the risks of interstitial lung disease and embryo-fetal toxicity.
The recommended fam-trastuzumab deruxtecan-nxki dose for gastric cancer is 6.4 mg/kg administered as an intravenous infusion once every 3 weeks (21-day cycle) until disease progression or unacceptable toxicity.
Learn more about the importance of this new approval in this interview with Dr. Yelena Janjigian in Targeted Oncology.