The latest statistics released by the American Cancer Society projects that fewer Americans will die of Esophageal Cancer in 2021 than died of this devastating cancer in 2020.  But they also predict more Americans will be diagnosed with Esophageal Cancer.  The report also estimates that Esophageal Cancer will remain in the top ten cancer killers of American men, ranking #7 and causing 4% of cancer deaths among men in the U.S.  Overall, Esophageal Cancer causes 1% of all cancer diagnoses and 2.6% of cancer deaths.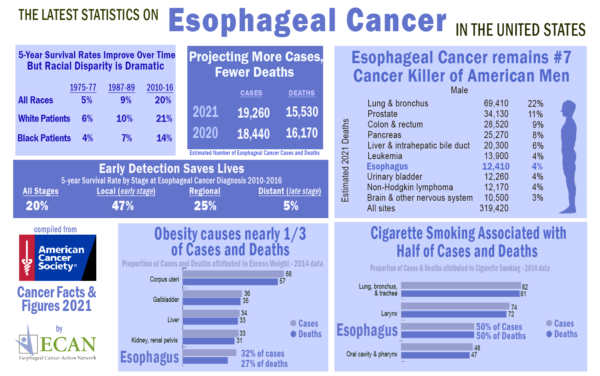 The data released as part of the ACS report Cancer Facts & Figures 2021 also showed that half of American Esophageal Cancer cases and deaths in 2014 were caused by cigarette smoking and nearly one-third were caused by excess weight.  The report showed that while the overall 5-year survival rate for Esophageal Cancer improved from 1975 at just 5% to 2016 when the overall survival rate reached 20%, the survival rate for Black patients did not improve so dramatically, going from 4% to just 14% over the same period of time.
The statistics also confirm that early detection of Esophageal Cancer saves lives.  Patients diagnosed at late stages had 5-year survival rates of just 5% in 2016 compared to patients diagnosed at the earliest stages when survival rates of 47% are reported for the same period.  Patients diagnosed with regional malignancies were found to have survival rates of 25% during that period.
You can find out more about early detection of Esophageal Cancer and how Reflux Disease can put patients at higher risk for this deadly cancer with ECAN's free downloadable Guide for Patients.